---
Posted: 16 Apr 2011 02:01 AM PDT
A scuffle took place between Barisan and opposition supporters. PBB Youth chief Datuk Fidillah Yusof alleged that some opposition members who are not voters had entered the polling centre without the necessary documents and passes.

Time:

01:16

More in

News & Politics
LAST MINUTE STORY- TAM SIM, OH SIM, BOH SIM! Dr. Sim can't heal! ;)
Posted: 16 Apr 2011 02:18 AM PDT
A last-minute from one of zorro-unmasked's readers in his posting entitled 'DIRECT FROM SIBU':
LAST MINUTE STORY- TAM SIM, OH SIM, BOH SIM! - Subject: FW: A true story from Sayang Sarawak

An elderly man met Dr Sim during his walkabout in Kenyalang Park.

He asked: Doctor I hear you are a skillful doctor of the heart.

Dr Sim: Yes I believe so.

Old man: Tell me doc, there are two heart ailments I want to ask if you can heal?

Dr Sim: Yes, what are they?

Old man: Can you heal "tam sim" (a greedy heart) and "oh sim" (an evil heart?)

Dr Sim: speechless and walks away…

Dr Sim is BN candidate for N.10 Pending against Violet Yong of DAP.
Posted: 16 Apr 2011 01:29 AM PDT
Fair voters turn out for Sarawak's 10th state election, Chief Minister and PBB president Tan Sri Abdul Taib Mahmud expectsgood polls outcome.

Time:

01:40

More in

News & Politics
Sunday lunch @ WIP Bangsar Shopping Complex: Beef Pasta Carbonara!
Posted: 15 Apr 2011 11:41 PM PDT
Posted: 15 Apr 2011 10:40 PM PDT
This is an oldie that has made its round in the email circuit but I am reposting it as it has valuable lessons for all of us. Take care and have a great day!
Bringing a giraffe into the world is a tall order. A baby giraffe falls 10 feet from its mother's womb and usually lands on its back. Within seconds it rolls over and tucks its legs under its body. From this position it considers the world for the first time and shakes off the last vestiges of the birthing fluid from its eyes and ears. Then the mother giraffe rudely introduces its offspring to the reality of life.
In his book, A View from the Zoo, Gary Richmond describes how a newborn giraffe learns its first lesson.
The mother giraffe lowers her head long enough to take a quick look. Then she positions herself directly over her calf. She waits for about a minute, and then she does the most unreasonable thing. She swings her long, pendulous leg outward and kicks her baby, so that it is sent sprawling head over heels.
When it doesn't get up, the violent process is repeated over and over again. The struggle to rise is momentous. As the baby calf grows tired, the mother kicks it again to stimulate its efforts. Finally, the calf stands for the first time on its wobbly legs.
Then the mother giraffe does the most remarkable thing. She kicks it off its feet again. Why? She wants it to remember how it got up. In the wild, baby giraffes must be able to get up as quickly as possible to stay with the herd, where there is safety. Lions, hyenas, leopards, and wild hunting dogs all enjoy young giraffes, and they'd get it too, if the mother didn't teach her calf to get up quickly and get with it.
The late Irving Stone understood this. He spent a lifetime studying greatness, writing novelized biographies of such men as Michelangelo, Vincent van Gogh, Sigmund Freud, and Charles Darwin.
Stone was once asked if he had found a thread that runs through the lives of all these exceptional people. He said, "I write about people who sometime in their life have a vision or dream of something that should be accomplished and they go to work.
"They are beaten over the head, knocked down, vilified, and for years they get nowhere. But every time they're knocked down they stand up. You cannot destroy these people. And at the end of their lives they've accomplished some modest part of what they set out to do."
-Author Unknown-
Posted: 15 Apr 2011 10:04 PM PDT

歌曲: 施人誠
歌詞: 楊子樸
導演: 徐筠軒
還是原來那個我 不過流掉幾公升淚所以變瘦
對著鏡子我承諾 遲早我會換這張臉一堆笑容
不算什麼 愛錯就愛錯
早點認錯 早一點解脫
我寂寞寂寞就好
這時候誰都別來安慰 擁抱
就讓我一個人去痛到受不了
想到 快瘋掉 死不了就還好
我寂寞寂寞就好
你真的不用來我回憶裡 微笑
我就不相信我會笨到 忘不了
賴著 不放掉 人本來就寂寞的
借來的都該還掉
我總會把你戒掉
還是原來那個你 是我自己做夢你有改變什麼
再多的愛也沒用 每個人有每個人的業障因果
會有什麼 什麼都沒有 早點看破 才看的見以後
我寂寞寂寞就好
這時候誰都別來安慰 擁抱
就讓我一個人去痛到受不了
想到 快瘋掉 死不了就還好
我寂寞寂寞就好
你真的不用來我回憶裡 微笑
我就不相信我會笨到 忘不了
賴著 不放掉 人本來就寂寞的
我總會把你戒掉
因为我发觉是我天真的梦,
梦到你要为了我改变什么。
始终相信你会带给我快乐,
就快三年才发现是个骗局。
就请你让我寂寞寂寞就好,
就让我的心静静的流泪着,
坚信会有一天我会忘记你。
Filed under:
Entertainment
,
Heartfelt
Posted: 15 Apr 2011 09:34 PM PDT

我想我不會愛你
詞/曲: 呂康惟 編曲: JerryC
你的呼吸 穿過身體 我來不及反應
你的聲音 躲在耳裡 讓我生病
謝謝 你給的讓我沉迷 讓我丟掉了姓名
在好奇的時候 拉不住眼睛
我想我不會愛你 這樣下去 渺小的自尊都快要拋棄
我想我不會愛你 只是也許
你的嘆息 散落一地 讓我歇斯底里
靠得太近 一不小心 弄傷自己
謝謝 你給的讓我沉迷 讓我困住了自己
在迷路的時候 捨不得離去
我想我不會愛你 這樣下去 渺小的自尊都快要拋棄
我想我不會恨你 傷的痕跡 住在我心底變成了祕密
我想我不會愛你 害怕失去 所以逞強的遠遠看著你
我想我不會恨你 只是也許
Filed under:
Entertainment
,
Heartfelt
No Malaysian race can have all they want but Taib has almost all he wants
Posted: 15 Apr 2011 09:34 PM PDT
Dr M - No single Malaysian race can have all they want
Friday, April 15th, 2011 22:17:00
MUKAH: In a multiracial country like Malaysia, no single race can get 100 per cent of their rights fulfilled, says former prime minister Tun Dr Mahathir Mohamad.
"It is very important for the people to understand and accept the fact that we cannot get all our demands.
"We need to sacrifice some of our rights to accommodate others in order to create a peaceful and stable society for greater development, progress and prosperity," he said when speaking at the "Berambeh Jegem (Get-Together) with Tun Dr Mahathir Mohamad" event, here, today.
Also present were Chief Minister Tan Sri Abdul Taib Mahmud and wife Puan Sri Ragad Kurdi Taib. Abdul Taib is defending his Balingian seat in the state election tomorrow.
A large crowd of about 3,000 people turned up at the Kingwood Resort where Dr Mahathir attended the function.
The former premier also talked at length on the need to have a strong, formidable and responsible government to create jobs and business opportunities to enable the people to earn regular income and enjoy a better living standard.
"This had been and is the policy of the government of Malaysia under past prime ministers Tunku Abdul Rahman Putra Al-Haj, Tun Abdul Razak, Tun Hussein Onn, myself, Tun Abdullah Ahmad Badawi and current Prime Minister Datuk Seri Najib Tun Razak," he said.
Dr Mahathir called on all Malaysians, particularly Sarawakians, to be knowledgeable and wise in discharging their democratic rights to safeguard the peace, unity and harmony prevalent among Malaysians.
He also reminded Malaysians to refrain from being confrontational but to be tolerant and accommodative as the country moved forward to become a developed nation in the near future.
Dr Mahathir said the poor distribution of wealth in Africa and Middle Eastern countries was the main cause of unhappiness and dissatisfaction among the poor and ordinary people.
He praised Najib's leadership, saying he had full confidence in him. He said Najib should be supported by all Malaysians, irrespective of race, creed and faith.
Posted: 15 Apr 2011 09:18 PM PDT
I've an old school mate working in the United States. Near Washington DC, to be more precise. I've known him to be working there for donkey's years. So long, in fact, that I don't know when it was that he had settled down there. We usually keep in touch by emails only and once in a very long while, he'd come back to his old hometown for a visit to his remaining relatives here. Unfortunately, these visits also getting fewer and farther apart before the old folks are getting less.
But that's beside the point. He often tells me that if ever I'm in his part of the world, I should give him a shout. There are lots of cultural events the whole year round in America's capital city but if I'm game enough to go there in winter, I should pencil in the annual
DC New Years Eve
Gala. "There's no New Years Eve party like this one," he assured me.
"It's very cosmopolitan," he said. Huh, even through email, I could detect his gushing enthusiasm. "You won't feel out of place. Come here,
lah
, to savour the delights of the various continents. It's not only about food, you know, it's also about music, culture and people." Wonderful, isn't he? He's more than 30 years out of the country but that little "
lah
" in the conversation betrays his origin. Our little inflexion of the English language. Just can't get it out of our system.
Sounds so very interesting. People? Meeting 3,000 partying people? Erm, maybe not my kind of crowd. Will be kind out of place, even should my friend pulls me along. But music, that's okay with me. Culture, that's okay with me too. Why don't you go give them a virtual tour first, he suggested. So I did and I ended up at this
New Year DC
site.
Yah, my friend wasn't joking. Even for us Asians who may happen to work or visit the States at the end of year, the
Professionals In The City
's annual
New Years Eve Washington DC
Gala is indeed a rousing event for everyone regardless of ethnicity. The organisers claim to have searched the world for the best New Year celebrations and combined them all into one truly unforgettable evening, and they have been doing this for more than a decade. It's become an institution.
For example, there was a Latin Fusion Salsa Room for everyone to samba the night away to their live salsa band. Don't know how to? There were even on-the-spot lessons. Cool. Samba's a nice lively dance. Or maybe a Mexico City Fiesta to get your blood up. There was also the elegance of Viennese music to waltz to, played by a live orchestra.
For us Asians who may want to be closer to home, my friend told me the organisers had lined up an East Asian themed Fountain of Youth with music and culture most popular in Hong Kong, Tokyo, and Kyoto. Or maybe, stray into the Bollywood Hills Underground Club to enjoy exotic Hindi, Punjabi, Ghazals and Bollywood pop songs, and learn Bollywood dances. And not forgetting the chance for anyone to show off their talents - good or bad - in the Japanese Karaoke Room.
All very interesting, right? Maybe,
lah
, I wrote back to my friend. Maybe, if I do pass halfway around the way and happen to be in his neighbourhood, I'll give him a call. In the meanwhile, he can go to this year-end's New Year's Eve Gala by himself first. And tell me later. Haha...
This was what I found on the Internet. Gosh, it's really wild and exciting:
ca-pub-5430283382112812
Sarawak polling day, I have voted and yesterday, when my legs were young
Posted: 15 Apr 2011 05:48 PM PDT
Authentic Sichuan in Jalan Alor
Posted: 15 Apr 2011 05:30 PM PDT
The fish with pickled vegetables goes well with rice.KUALA LUMPUR, April 16 — Most tourists make a beeline for the brightly-lit and crowded food haven in Jalan Alor, and a lot of foreign hotel chefs would have had their initiation into local hawker food there. Our friend J once followed the trail of some off-duty Chinese karaoke hostesses and stumbled upon this stall selling Sichuan food. Tried, tested and satisfied, he took us there one night to the innocuously named Kedai Makanan dan Minuman TKS. It's diagonally across from Wong Ah Wah which is famous for its roasted chicken wings. At TKS it would be best if you have someone who speaks Mandarin and is able to read a menu in Chinese. No matter, you can always point to dishes at a neighbouring table and get understood as well.
The century eggs were creamy and offset by the piquant sauce... yummy. Our starter was some marinated and braised duck necks, wing tips and intestines. They gave meaning to that Sichuan "ma la" characteristic — numbingly spicy! But you could get the fragrant aroma of the Sichuan peppers that had been in the marination, besides the dried chillies and other spices. I was careful not to let the neck touch my lips. It was very flavourful but so fiery hot. I especially enjoyed the crunchy duck intestines. You could take a breather from the heat by having the mild Cheong Chup Kay Chee, which are slices of eggplant deepfried, then drenched with a minced pork sauce. This was so smooth and nice. There was the How Sui Kei or "saliva" chicken in chilli oil with lots of chopped garlic and spring onions. The chunks of chicken were swimming in the oil and they weren't as hot as they looked, so it's safe for those who can't take the heat of Sichuan peppers.
Warning: These look innocent but the marinated duck necks are super hot.Distinctive among the dishes we ordered was the century egg, slices of which tasted so creamy and lovely in a sour sauce, heaped with chopped garlic, spring onion and chilli. I liked the Lai Pei salad too — pieces of transparent mung bean sheets tossed in a piquant sauce with shredded cucumber, spring onion, garlic and chilli. It wasn't seriously hot.  What I have noticed in this Sichuan food stall run by Chinese nationals is that less of the expensive Sichuan peppercorns that cause the numbing sensation are used. Instead you would find everything smothered in fried dried chillies which makes the food tolerably hot. The Suen Choy Yu in a soup with fish, salted vegetables, dried chillies and topped with Chinese celery was something you would want to go back for even after trying the other dishes. I like anything with salted vegetables in it. The flavours were a little tart, hot and the soup was delicious. I didn't like the Sui Chue Yu, that had fried fish slices dunked in a large basin of chilli oil, with dried fried chillies floating on top. It looked lethal but wasn't really, and as you dug deeper, you would get to a layer of soup and lots of beansprouts at the bottom. You might want some noodles or rice to go with this. This and a dish of marinated cabbage made an amply satisfying meal for the night. Except for the marinated duck necks and innards which cost RM40 (which are from an outside supplier), the food was not expensive at all, for the large portions we had. Jalan Alor is worth exploring on a fine night and you might want to sweat it out at TKS.
The eggplant with minced pork is a delicious dish that is, surprisingly, not spicy.  
Posted: 15 Apr 2011 03:15 PM PDT
Larry Walters is among the relatively few who have actually turned their dreams into reality. His story is true, even though you may find it hard to believe.
Larry was a truck driver, but his lifelong dream was to fly. When he graduated from high school, he joined the Air Force in hopes of becoming a pilot. Unfortunately, poor eyesight disqualified him. So, when he finally left the service, he had to satisfy himself with watching others fly the fighter jets that criss-crossed the skies over his backyard. As he sat there in his lawn chair, he dreamed about the magic of flying.
Then one day, Larry Walters got an idea. He went down to the local Army-Navy surplus store and bought a tank of helium and forty-five weather balloons. These were not your brightly colored party balloons, these were heave-duty spheres measuring more than four feet across when fully inflated. Back in his yard, Larry used straps to attach the balloons to his lawn chair, the kind you might have in your own back yard.
He anchored the chair to the bumper of his jeep and inflated the balloons with helium. Then he packed some sandwiches and drinks and loaded a BB gun, figuring he could pop a few of those balloons when it was time to return to earth.
His preparations complete, Larry Walters sat in his chair and cut the anchoring cord. His plan was to lazily float up a ways, and then lazily back down to terra firma. But, things didn't quite work out that way.
When Larry cut the cord, he didn't float lazily up - he shot up as if fired from a cannon! Nor did he go up a couple hundred feet. He climbed and climbed, until he finally leveled off at eleven THOUSAND feet! At that height, he could hardly risk deflating any of the balloons, lest he unbalance the load and really experience flying! So, he stayed up there, sailing around for fourteen hours, totally at a loss as to how to get down.
Eventually, Larry drifted into the approach corridor for Los Angeles International Airport. A Pan Am pilot radioed the tower about passing a guy in a lawn chair at eleven thousand feet... with a gun in his lap. (Now there's a conversation I would have liked to have heard!)
LAX is right on the ocean, and you may know that at nightfall, the winds on the coast begin to change. So, as dusk fell, Larry began drifting out to sea.
At that point, the Navy dispatched a helicopter to rescue him. But, the rescue team had a hard time getting to him, because the draft from their propeller kept pushing his home-made contraption farther and farther away. Eventually they were able to hover over him and drop a rescue line with which they gradually hauled him back to earth.
As soon as Larry hit the ground, he was arrested.
But as he was being led away in handcuffs, a television reporter called out to ask, "Mr. Walters, why did you do it?"
Larry stopped, eyed the man for a moment and replied nonchalantly, "A man can't just sit around."
-Author Unknown-
* I received this some time back from a friend and am unable to verify if this is a true story.
Posted: 15 Apr 2011 04:41 PM PDT
This may be the most important election in Sarawak history.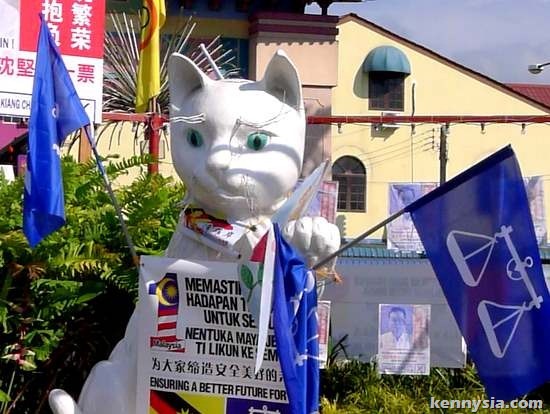 I can't be in Kuching to vote due to earlier plans, but I want to play my part in this. I guess the best thing I can do is to keep everyone up to speed on what's been happening.
And the best way to do it?
Like Rosalinda would - through music video.
Blackberry Playbook Preview – Bridge Bar, G Tower
Posted: 15 Apr 2011 11:13 AM PDT
I managed to get my grubby hands on the Blackberry Playbook today.
Oh no no, I didn't buy one! But I got to fool around with one during the sneak preview session for media earlier this evening!


I went with low expectations. And it didn't help to have read, heard and watch some pretty negative reviews about the Playbook throughout the day prior to the preview. The critics & techies haven't been too kind.
Still, nothing beats the experience of actually holding one in your hands. And while everyone are entitled to their opinions & tech gurus can have all their say, it's best to judge for yourself if this would be the tablet that you should invest in, and whether it suits your lifestyle and needs.
And all that starts from actually testing out a unit.
Personally I'm a sucker for tech products that boasts of a solid feel, so the material used is of paramount importance to me. "Solid" doesn't necessary equates to heavy. I mean, light is fine, but it shouldn't feel "plasticky & hollow". I hope you could get what I'm trying to convey without me having to name names of products that falls in that category!
Anyhow, the Playbook scored points in that department for me. I liked the solid, "heavy" feel of the device.
Call me superficial, but I'm all for prettiness and esthetics. I find the applications a bit plain in colours & pretty simplistic in functionality. Navigating around on the Playbook took some getting used to as well, for there are no self-explanatory "buttons" on the edge, but everything was navigated via swiping of the screen from the top/bottom/left or right edge. Swiping your fingers from each side carries out a different function; for example, swiping your fingers from bottom to top takes you back to the main menu.
And yeah, put a bunch of tech people together in a room and out comes all the gadgets. Here, we were comparing the Samsung Galaxy Tab and the Playbook side by side.
The Playbook looked and felt better in the hands to me. The Samsung Galaxy Tab is bulkier somehow and lacked the sleekness factor.
The Ipad, Blackberry Playbook & Samsung Galaxy Tab. No prize for guessing which was the favoured tablet among us all.
The Playbook Specifications:

Ultra portable, super convenient
Height: 5.1"/130mm
Width: 7.6"/194mm
Depth: 0.4"/10mm
Weight: 0.9lbs/425g
7" LCD display, 1024 x 600 screen resolution
Multi-touch capacitive screen
Professional grade performance
Full computing power in tablet format
1 GHz dual-core processor
1 GB RAM
Symmetric multi-processing
Web without limits
Games, media, apps and everything the real Internet offers
Full Adobe® Flash® 10.1 enabled
Built-in support for HTML 5
No-compromise rendering of text, graphics and video
High-speed connections
3G network access using your BlackBerry® smartphone as a modem
Wi-Fi® 802.11 a/b/g/n
Bluetooth® 2.1+EDR
Amplified BlackBerry experience
Wirelessly connect to your BlackBerry® smartphone for real time access to:
Email, calendar, address book, task list and BBM™
Best-in-class media
3 MP high-definition forward-facing camera
5MP high-definition rear-facing camera
Codec support for superior media playback, creation and video calling
1080p HD video; H.264, MPEG4, WMV HDMI video output
Micro USB and Micro HDMI ports
Video-conferencing
Crystal clear HD display
Rich stereo sound
Dual HD video cameras
Built for business
Out-of-the-box compatibility with BlackBerry® Enterprise Server
Seamless pairing for a secure window into your BlackBerry® smartphone
Corporate data access
Secure and manageable
BlackBerry Tablet OS
Powerful, user friendly QNX technology: It's what the World Wide Web runs on
Multi-processing for true multitasking
Rich application ecosystem
Rapid development environment
Reliable BlackBerry Tablet OS, powered by QNX technology
Supports POSIX OS, SMP, Open GL, BlackBerry® 6, WebKit, Adobe Flash,
Java® and Adobe Mobile AIR
Availability
The BlackBerry PlayBook is expected to be available in retail outlets and other channels in the United States in early 2011 with rollouts in other international markets beginning in (calendar) Q2.
Posted: 15 Apr 2011 10:49 AM PDT
Deputy Prime Minister Tan Sri Muhyiddin Yassin sharing a light moment with the crowd during a meet the people session at the Batu Kawa MJC Pasar Tamu.

Time:

00:44

More in

News & Politics
Posted: 15 Apr 2011 11:13 AM PDT
Banned Dogs List - Case Of DVS And MPSJ Barking Up The Wrong Tree
Posted: 15 Apr 2011 09:00 AM PDT
DATELINE PETPOSITIVE THERAPY CENTRE, PETALING JAYA: A COUPLE OF REPORTS in The Star this week have raised the heckles of animal lovers and left them confused at the same time.They were about the attempts by the Department of Veterinary Services in Selangor and the Subang Jaya Municipal Council (MPSJ) to crack down on puppy mills by banning seven breeds of dogs in the municipality. (See reports
Najib and 'al-taqiyya' principle: Lying to non-Muslims for protection of Islam
Posted: 15 Apr 2011 08:59 AM PDT
In a lengthy 10-point statement, the Council of Churches of Malaysia (CCM) Youth did not mince its words in dismissing the
10-point solution
offered by Minister in the Prime Minister's Department Idris Jala.
It said that the "quick-fix" proposal ignored the "the overt and covert manner which the government had discriminated against the Christian citizenry for close to 40 years".
The following is CCM Youth's press release expressing its views in response to the various statements issued by the Christian Federation of Malaysia (CFM), the National Evangelical Christian Fellowship (NECF), the 10-point solution as proposed by Minister in the Prime Minister's Department Idris Jala, and comments made in the media by the Home Minister Hishammuddin Hussein and various parties.

1. 10-point proposal only addressed the Al Kitab issue

The 10-Point Proposal presumed that Christians were only concerned with the Al Kitab issue. That premise is incorrect.
The 10-Point Proposal distracted both the public and the church leaders from getting to the heart of the matter, that is, the concern over the overt and covert manner which the government had discriminated against the Christian citizenry for close to 40 years that had resulted in the gradual deterioration of basic rights of Christians to freely exercise their faith...(Source:
Malaysiakini
)
IF

NAJIB

IS THE

PRIME MINISTER

FOR

ALL MALAYSIANS

AND

100%

SINCERE

, HE SHOULD DIRECT THE ATTORNEY GENERAL TO

WITHDRAW

THE APPEAL OVER THE 'ALLAH' ISSUE FROM THE COURT OF APPEAL! SIMPLE SOLUTION BUT DARE

NAJIB

DO THE RIGHT THING?
BlackBerry Playbook Media Preview Event
Posted: 15 Apr 2011 07:48 AM PDT
Today is such a great day for tech/geek media in KL as we got invited to an exclusive preview session of the upcoming BlackBerry Playbook at Bridge Bar, G Tower few hours ago.
This is a post about the event itself. Detailed review, photos and video of the tablet will be up on DISCOVRPOP soon.
As I went up to the 28th floor not knowing if I was at the right place, I was assured by this notice… with the bridge behind this notice, I started to get excited as the Blackberry tablet will soon appear in front of my eyes.
The bridge bar looked awesome as usual, not forgetting the breathtaking KL view from top.
The star of the evening, the tablet which has been debated for all this while, the 7″ BlackBerry Playbook made it appearance right before my eyes. It looks really good, as you can see from this photo above.
How can I not pose with the device, hehe. Grabbed it and struck a few poses for the camera hahaha. The size is just right for 1 hand. Not too big like the iPad and not too small like our phones.
Ben, the Blackberry PR personnel giving us a demonstration of a device + showing us how the HDMI output works. It's a 2-way HDMI connection allowing us to view the contents from the tablet on our TV and vice versa.
Throughout the evening, I was taking photos, recording videos and playing with it to prepare a review post for http://discovr.smashpOp.net, my tech/mobile blog. So head on there tomorrow or the day after for exclusive tech details, reviews and video demo of the device in close up.
The availability and price for the Blackberry Playbook is not yet confirmed… hence I cannot tell you anything about that…
First impressions of the Playbook?
- Very solid body. Comfortable to hold. Lightweight.
- Interface is very responsive, smooth and does not lag at all.
- Multitasking works like a charm, with Need For Speed, video player, music, browser and some other apps running in the background.
- Back camera (5mpx) works great, sharp images, bright and front camera (3mpx) looks great too.
More info check back at on DISCOVRPOP soon.
Posted: 15 Apr 2011 08:08 AM PDT
Ahem and i'm clearing it.
Although i must admit that i have been quite the hardworking lately, cuz ads started coming back a bit, then i also feel more motivated to update more often.
No ad = Sad blogger = Shit blog. Pls support full time blogger thanks.
Ok this is what happened in the past few weeks for me la.
#1
Stupid zombie.
This was my life (or the lack thereof)  for quite awhile until i returned the loaned phone, but i just got a Galaxy Tab, so…. there goes my life again.
#2
Bean Boozled Game Edition!!! Porkie got it for me from UK. For those who do not know what it is you can watch a video i posted 2 years ago.
#3
St Pat day with S Mary Vene.
#4
#5
#6
At some blogger sharing session with Aud. The blonde is Xiaxue who refused to be in picture because she took out ONE of her contact lens wtf.
The next day the three of us had fun shopping!!!
And then and then!!! We saw this loose T-Shirt that we MUST GET. So happened they had 3 pieces lo it's like it's specially made for us poor T shirts waiting its whole life for us to come to them wtf.
And we had to lat tali lat tali lit tam pong to fight for the nicer colors wtf. I kinda lost and got the shitty grey color.
But i still look good
And here's the T shirt!!!
#7
"Yea so big i can't even fit in it. Beat that!"
#8
"Wtfwtfwtf"
#9
#STFUed.
#10
Zero photoshop. Here are the real faces of your bloggers who claims blog is bigger than each other wtf. And Xiaxue's new nose is super chio!
#11
Changed into our Blogger Shirts for dinner!!! <3
#12
#13
Went for Lat Kampung Boy the musical.
#14
Aud wanted to do a swimming pose phailed.
#15
This is us trying to camwhore with the PM and wife lolol. The show couldn't start because Najib hadn't arrived
.
Then Aud and i actually tweet @NajibRazak and asked Y U NO HERE YET! IT IS LAT, NOT LATE! lololol pls don't bomb us.
#16
This is me camwhoring with the PM and wife wtf. I was very happy my view wasn't blocked because Rosmah was sitting behind me not in front #trollface.jpg
Anyway i'm giving out two pairs of tickets to comedy show God Of Carnage, featuring… the above famous people la! I will be going! So if you (seriously) want to go, please leave a comment. First two comments (preferably of somethign nice to say *ahem you know la) gets a pair of ticket worth RM60 each!!!
Show day is on the 28th April 8:30pm, make sure you can go, don't FFK! More info about the show here.
#17
This is taken another day i went shopping with Aud. Come to think of it we shopped quite a lot last and this month ah.
(issokay it's my bday month #fullofexcuses)
#18
Errr can you spot what's wrong in this picture?
Well, Aud came to my place and we wanted to go shopping but too lazy to drive two cars so we asked Dumbi send us to KL but the problem is Dumbi's car is a two-seater so we were like wtf how ah 
#19
Seriously, only we could pull it off. I wonder if anyone got stopped by police doing this wtf.
Actually we did this a few times and we take turn la. The first time i sat on the floor and i told Aud and Dumbi if there's police i will start tilting my head side to side and pretend to be a human-size Solar Figure people put inside the car.
#20
HAHAHHAHA SRSLY i wonder who else can do this!!!!!!!!!!
#21
With Cindy at Tourism SG event.
#22
#23
Floral Top from lololook
Vintage shorts and Kago Basket from minimaos
#24
#25
Cheat One™ short hair.
#26
#27
When my hair was still raspberry. Now it's more like moldy raspberry.
#28
Spending my 16th birthday. For the XXXXXth time.
#29
Bandage leggings from lololook.
#30
W♥C Union Jack top from minimaos
#31
#32
Went to My Body Secret for….
For Brazilian IPL!!! (If you dunno what it is then you prolly don't need it la)
Omg i have been wanting to do this forever but it's SO FREAKING EXPENSIVE i remember Strip is charging something like RM5k for 8 sessions. I almost considered doing it  because it's so worth it, since waxing hurt like ah ma also cannot recognize. I wonder why i tortured myself like that.
Anyway IPL was freaking awesome. I did mine few days ago!!!
#34
Unfortunately this is the only representative picture i can show for this blog to be safe for the office wtf.
My Body Secrets' first trial for Brazilian IPL is RM250  
Cheapest in the market so far!
Soooooo much less painful than waxing and it lasts so much longer. (My last session lasted about 3 months). In the long run i think it's super worth it!
Other than Brazilian, they also have other IPL services. Upper lip and under arm for only RM45 first trial!!!
Find out more on MBS FB Page or website
My Body Secrets
No 65, Jalan PJU 5/21, The Strand,, 47810
+603-6142-4898
.
.
PS: I know too many things you prolly forgot what you want to comment 1/3 way reading. Quite curious to see which part people comment on the most!